Help Wanted
NEIL LEESON DECOR FLORAL
FLORAL DESIGN, MANAGEMENT, & SUPPORT POSITIONS AVAILABLE SOON
West Akron-based, high-style floral design company known for creating unique and exciting weddings, events, and daily arrangements is expanding for the 2013 season and is now accepting resumes for the following positions to begin in April 2013:
Floral/Event Production & Retail Manager
Applicant must have experience in all aspects of floral design, from daily deliveries to bridal bouquets to centerpieces, as well as experience in the supervision, training, and development of a floral design staff. We are looking for a highly-organized, detail-oriented, self-motivated individual who can keep a staff on task on a daily basis to meet deadlines while maintaining a pleasant, team-oriented workplace. This person should also be strong in continually developing creative strategies to help keep the company moving forward and growing. This is a full-time, possibly salaried position. General computer skills and management experience are required.
Executive Assistant
Full-time position for the assisting of owner and two upper-level managers. Must be a great multi-tasker and communicator, be flexible and adaptable, and enjoy working in a fast-pace, ever-changing creative yet structured environment. Must possess excellent customer service skills and a positive, outgoing, "can-do" attitude. Strong computer skills, with knowledge of Microsoft Office as well as Apple computers are needed. Good writing skills and some marketing experience are needed as well. Responsible for overseeing building maintenance and a small housekeeping staff.
Floral Designers
We will have openings for two to four full- and part-time floral designers.  Individuals must be highly creative, highly organized, energetic, and detail-oriented, with strong customer service skills and the ability to work well alone and within a large group. Knowledge and experience in wedding and event design and installation, as well as in retail (daily deliveries, etc.) are required. Experience in high-style contemporary and classic design is desired. General computer skills are required.
Please send an email informing us of what position you are interested in and your resume to Neil Leeson - neil@neilleeson.com .
Award winning, nationally recognized AV Staging company is hiring production
managers/account reps and technicians for both in-house and travelling staging operation. All
positions will be based in Northeast Ohio.
CSR – Colortone Audio Visual Staging and Rentals, Inc; is a full service Audio Visual Staging
Company offering a wide variety of services ranging from basic AV needs and simple exhibit
booth rentals to the most complex staged corporate events including pixel mapping, edgeblending,
custom scenery and full rider entertainment gigs.
Candidates must have 3-5 years of experience with knowledge and full understanding in the
setup and operation of both small and large venue video, audio and lighting systems. Any
candidate with CTS or ETCP certification moves to the head of the list. The ability to be creative,
think out of the box and solve problems before they exist is critical.
In-house production managers/account reps must possess excellent customer service skills, an
understanding of audio, video, lighting, rigging, data networking, PowerPoint/keynote and
video conferencing as well as the ability to prioritize and execute tasks under deadline pressure.
Video technicians should be experienced in all aspects of presentation technology including
Barco FSN, Encore, Folsom SPII switchers and Christie projection. Edge-blending, pixel mapping,
routing and a full understanding of scan rates, resolutions and signal distribution are required.
Video technicians will be required to travel and maintain a flexible schedule.
Lighting technicians should be experienced in all aspects of performance and temporary
architectural lighting including rigging, power, programming and basic repair maintenance on
moving fixtures. Lighting technicians will be required to travel and maintain a flexible schedule.
Audio technicians should be experienced in all aspects of high quality audio playback /recording
including digital consoles, wireless microphones, signal processing and line array system. Audio
technicians will be required to travel and maintain a flexible schedule.
CSR offers a competitive salary commensurate with experience, medical insurance, company
matched 401K, profit sharing plan, paid vacations and a company culture which includes a
relaxed office environment to compensate for the on-site stress.
For a confidential conversation, please respond to employment@colortone.com.
Cleveland Clinic – Asst. Director of Special Events
The Asst. Director of Special Events will be responsible for the coordination and management of assigned special events for the Philanthropy Institute. The Asst. Director will develop, implement and manage special events; maintain budgets and timelines; provide timely updates and briefings to constituencies. Assists in the development, implementation and management of special events related to an institutional-wide, comprehensive campaign.
Asst. Director, Special Events
We're Hiring…Again!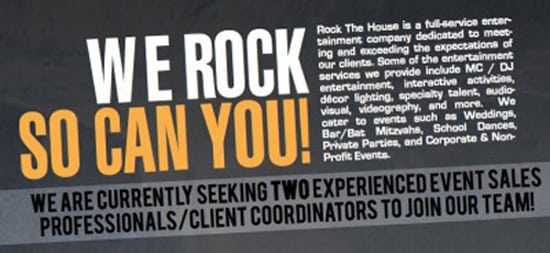 We are currently seeking TWO experienced Event Sales Professions/Client Coordinators to join our team!
Rock The House keeps expanding and we are excited to have the opportunity to be able to offer two full-time sales positions in order to meet the demand for our DJ/MC Entertainment, Lighting, Photo Booth, and Videography services.
Read our official job flyer by clicking on the image below to open the .pdf file.
To submit your resume and/or ask for additional information, click here:

Event Planner Needed
I wanted to let you know Whiskey Island Marina is looking for someone to help with Event Planning this year. If you know anyone with experience with planning weddings and other events, please have them email to 
tpoole@whiskeyislandmarina.com
.
Thank you
Tim Poole GM
Whiskey Island Marina
Balloon Crew, Inc. Job Opening!! 

DESIGN/DELIVERY/OFFICE
For Special Event Decorating
Join us and have fun at work!
We create unique balloon decor all over Northeast Ohio and are looking for 2 responsible, courteous people ( 1 Crew Member, 1 Crew Leader) to help us decorate for all kinds of  special events!  Over the phone or person-to-person sales ability is a PLUS.
- Both must have :
* Ability to communicate ideas and alter plans as needed.
* Desire to be creative & try new decor techniques.
* Talent to communicate creatively & thoroughly in both the verbal & written form.
* Excellent customer service qualities, even in difficult situations.
* Ablility to work 2-3 weekdays + Saturdays  ( full time is 3-4 weekdays + Saturdays)
- Other requirements for both:
- 2 years driving experience
- 18 years old or over
- Pass our simple math test
- Able to climb ladders
- Move/lift a 70lb helium tank into our van
- Work some holidays and an occasional Sunday
If you can answer "yes" to these requirements, we may have a spot for you as aCrew Leader!
-Can occasionally work outside of the standard 9-5 workday hours.
-Have above average understanding & abilities with Microsoft Office &
 the Internet.
-Willingness to explore & learn about the following computer programs: Constant   Contact, Quickbooks, and Microsoft Excel.
Pay scale: Hourly averages from $ 7.50 for beginners to $12.00 or more with advanced industry experience.
Call us at 216-341-5100. e-mail a resume to contactus@ballooncrewinc.com   or come by to see if you can do the job!
8805 Garfield Blvd. – Garfield Heights – OH – 44125
216-341-5100 - www.ballooncrewinc.com
Rock The House is looking for Dancers, MCs, DJs Sunday, March 4th at The House of Blues.
Visit This Page for more information on their annual audition or e-mail jobs@rthgroups.com
Baci is on the search for a Spring 2012 intern! We are excited to find a new addition to our baci family, could you be the one?
For more information, visit the original post on the Baci blog.
Here's some basic information:
1} This is an unpaid internship.  However, any design work that is done for a paying client by the intern will be compensated. Also the intern will be paid hourly for any day of events they work.
2} This position will require presence in baci's studio (in Cuyahoga Falls, OH) 2 – 3 days a week.
3} We are interested in stationery design or event planning interns – someone interested and talented in both departments would be GREAT!
4} The position will begin in mid January and run until early May.
If you're interested in applying for baci's Spring 2012 Internship – please send your resume and cover letter to intern@bacidesigner.com before Monday, December 5, 2011.  In return, we'll send along a bit more detailed information on what you can expect from the internship.  We'll be interviewing on December 12th & 13th.
Any questions or concerns please email Caroline at intern@bacidesigner.com.
In anticipation of their busiest booking season, Something New Entertainment Bridal Disc Jockey and Lighting Design Service is seeking an experienced sales person to join their growing team as a Brand Ambassador.  Prior experience in or familiarity with the special events industry is helpful, particularly with wedding ceremonies and receptions, but is not required.
This is an excellent opportunity for someone seeking a growing position with a growing company.  Schedule currently flexible and negotiable — part-time to start with definite full-time potential based on performance.  Compensation is competitive and will offer incentives for performance.
For more information, please visit the original post on the Something New Entertainment Bridal DJ Service and Lighting Design blog.
Interested? Send your resume/references along with a brief letter of intent to Anna-Jeannine Herman – aj9@SomethingNewEntertainment.com.